"Bye, see u later, alligator" That is how my lil boy bids bye to me these days, every single time he steps out of that door. Today was different. Today I said goodbye to him...in the morning... after a huge list of do's and don'ts to my husband. "Remember to give him his milk...His b'fast is on the table, do see that he eats up everything...His bus comes at 10.50 ..be there..."
Needless to say i was maneouvered out by G and the door shut firmly (lovingly?) on my face.
One would have thought that i was going away for a few days with all the preparations and instructions. But that was just me leaving early to attend an orientation workshop on Tai Chi. My boy leaves for kindergarten at 11:00 in the morning and i was quite sure i would not be able to attend this workshop slotted around the same time. But the darling hubby voulunteered to see him off to his school bus and go to work a little late. (okay, okay, i did thank him...that 'was' sweet of him!!!)
So everything set ,the hundred instructions messaged (:D), i reached the Botanical Gradens, just in time for the workshop.
Tai Chi
was something which had intrigued me for many years now, and i was quite glad to make use of this opportunity to know more about it. Besides the prospect of visiting the Botanical gardens was quite tempting. The Gardens proved to be the perfect backdrop for a class on mental and physical health.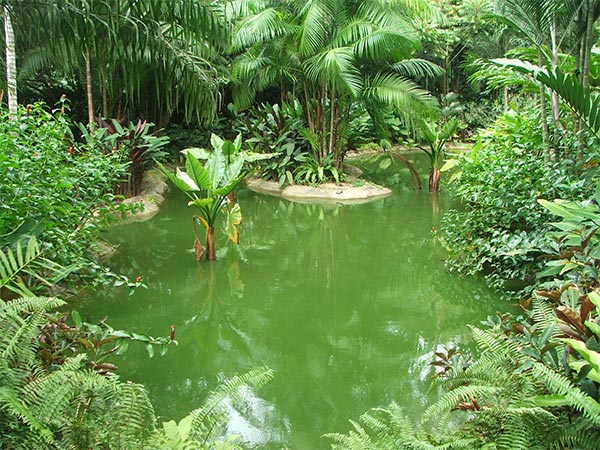 Tai Chi
is an ancient martial art and is actually called Taijiquan. It is more well known now for the soft and graceful exercises.
The instructor was an old gentleman who soon dispelled any doubts as to his strength and agility. Graceful, agile and flexible, he was a joy to watch. There are many forms of Tai Chi (Yang, Wu and Chen) and this class was more to highlight its use in reducing stress, and increasing flexibility and stamina though a series of smooth flowing movements. It goes without saying that it requires immense patience and dedication to master the art. It was an informative class and among other things, we did learn
never to stand still with our knees straight, keep them slightly bent...that way the wear and tear on the knee is less..

that it is not as easy as it looks.

about yin and yang

to kick our butts with our feet
the verdict... i still would take good ol' walking anyday...or perhaps yoga as a means of relaxation...this was so not me...but then again, i may take up the challenge of learning something new...
I had 3 more hours to spare before getting back home and i spent it exploring parts of the gardens i had not seen before. Disregarding my protesting muscles, I walked and walked. They have an interesting ginger garden and the famous orchids with flowers named after famous celebrities who had visited the place...This one was named in honor of the late Usha Narayanan
It was a most peacuful walk, serene and undisturbed. Like everything else in Singapore, the place is thoughtfully planned and landscaped. It truly is a walker's delight.Hours spent with my thoughts in the lap of nature...timeless!
I also visited the nearby orchard road, the ultimate shopping paradise for those crazy about the branded stuff. A tasty lunch, sighing at the perfect dresses and catching up on reading on the ride home completed a perfect day (can you believe i happened to be reading "The diary of a mad housewife")?
A fulfilling day indeed! and yes, inspite of those hundred instructions, G did forget to give him his milk, and the school bus had to wait quite a while for them...!!! It was one of those days where it really didn't matter!