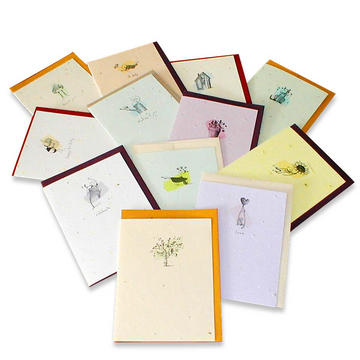 Last December, our chief artist, all of 10 years, sketched out a few holiday scenes, with his deputy aiding him in coloring them. He made a few and sent them to a few friends. We received enthusiastic thank you email messages from most of them!
We have a little tradition in the TA household where on every birthday, the birthday baby gets a card (usually hand made)… My birthday was no different. Like every year, the elder boy was galvanized into action by his father and he remained closeted in his room making a card for me. It was cute more so by the very visible efforts to keep it a surprise. The little one, too, came up with his little version.
Not very long ago, when i was young, occasions like these used to be preceded by the arrival of greeting cards by post. I remember waiting for the post in the days leading to my birthday. The cards would arrive in succession, heralding the important moment. Nothing surpasses the pleasure of receiving that special envelope with your name inscribed on it. Diwali and New Years had their own charm with cards from all over the world pouring in. We used to hang them on strings and display them with enormous pride. The stamps stuck in that corner used to be the most sought after, to add to that proud collection.
Sadly everything is so virtual these days…From the numerous cards, it surely has trickled down to a few loyal ones. E-greetings, text messages and phone calls have taken over. The text messages have certainly increased over the years!!
Things have certainly changed!! The postman has been sadly sidelined by his electonic counterpart. Would my children ever know the pleasure of receiving a snail mail? I hope so...
**************************************************
A postman's lament!!!

Letters no more, the postman sighs
everyone's reading posts
Of a different kind
Sent by virtual lines
These are indeed changed times!
***************************************************
The prompt at the
Writer's island
is 'changed'