"What's on your fridge?"
asked
Preeti, who is just a mother of two
. :)
'A few somethings"
, i wish i could have answered, few being the keyword here, but ...take a peek
My fridge surface continually changes. In Delhi it looked a whole different than it does now. Besides, the arrangement keeps varying. My boys keep moving it all over the fridge surface.
There are 15 magnets, out of which a few are of places we have visited together, the rest are put there by G. So much for this place being just my very own.
Most of them have a tale to tell. Some have been with us for ages. The Singapore one was picked up by my eldest boy on our first visit here...it brings back lovely memories of our first trip abroad with the children.
That's the family at the beach and the other was taken with two orangutans in Pattaya. I was quite happy with my resident monkeys and really didn't want these two lesser additions but of course who listens to moms any more?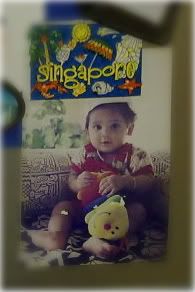 The picture of the baby is a favorite one...It is of Swaraj when he was @ 4mths. I just LOVE that pic...
There are two tiny Garfield ones (in pink and blue) added here courtesy my boys. i also see a Spider man one very ingeniously taped onto a magnet making its way here. And of course two animal magnets courtesy the zoological park here.
The black magnet with a pouch, has something very important - the white paper consists of lunch and dinner menus for the whole week that G managed the boys when I was in Bangalore - It was mainly followed to the T, even to the no of cookies put in the snack box, barring a call I got from the boys on a paratha dinner day, begging for Maggi noodles. :)
The resident environmentalist (my elder boy) has added his two magnets (the ones in white at the bottom)from the NEA (national environmental agency) . One of them bears the words "Turn me on, FAN my ego' !
(i'm glad that it has a pic of the fan, otherwise we would be giving people ideas, wouldn't we...*wink)

The Santa Claus has been clipped on by my lil one...
And yes, the blue/white background is an old project chart done by Swaraj...Most apartments in Singapore come furnished with basic electrical appliances and amenities (the air con, the washing machine etc). Since the fridge is not my own, that paper is supposed to prevent the magnets from scratching the fridge surface. (That's why it ends up looking neater too)



So what's on my fridge? Mostly fun memories, the current and the old, jostling for space there!
And what story does your fridge tell?
Abha, pink dogwood, ugich, Joy, preethi, rayshma, actually everyone who wants to...its showtime :)